DIGITAL PRESSES
AccurioPress C12000

NEW Our AccurioPress C12000 efficiently combines performance, quality and large print size capabilities. It can print on two-sided versions and in color of up to 51″.
One of its paramount versatilities, with this AccurioPress, is that it allows Sprint Media's team to print in color, but also print large quantities of products — from sizeable items like banners to smaller items such as envelopes.
Main features:
Allows up to 51″ double-sided printing for: envelopes, flyers, brochures, and banners
Prints brochures with form sizes such as 25.5″ × 11″ / or even trifold brochures of 8.5″ × 11″
Prints on paper of up to 24 points for formats measuring 13″ × 19.2″ in size
Has the capability to print in 1,200 × 1,200 DPI resolution with an 8-bit processing capability for color images and it also
Offers a variety of finishing options, including perfect binding, saddle stitching and spiral binding
Detailed description of the AccurioPress C12000
Bizhub PRESS C1070P

The Bizhub PRESS C1070 digital colour camera brings power, performance and simplicity to any production environment with up to 70 ppm print and copy speed; equipped with a PC-like interface, density sensors for image and colour control, allows for the production of offset quality digital images at a fraction of the price.
More information on the Bizhub C1070
Main characteristics
70 ppm in colour and black and white
Control of image and colour density
Business envelope printing and catalog printing capabilities
Other Features
Sprint Media's Bizhub C1070 allows for fast print and copy capabilities of speeds of 70 ppm in colour and black and white, but also for
fast scanning of originals on paper with 1200 × 1200 dpi resolution, and
the machine's 8-bit processing enables our team experts to produce smoother as well as realistic images, plus the machines have
Active SEAD IV digital framing system ensuring image stability; and
The Simitri® HD Toner with Biomass material, reduces the environmental Impact; and finally,
Its Paper support is 13 × 19.2 inches and under with a maximum weight of 300 g/m².
Docutech
The DocuTechs of Sprint Media, are ideal for digital printing projects whose volume or features do not justify the use of offset printing, which, in the latter case, is a process that is much more expensive for small print quantities.
Our DocuTechs are more than digital presses. Indeed, they are equipped with finishing modules allowing folding and brocading in a single operation. Internal finishing features include thermal binding, booklet production, blanket insertion, high capacity stacking, and ultimately seamless binding.
Docutechs can also collect digital master copies of multiple originals or sources to produce an entirely new document.
Xerox® Docutech™ 6180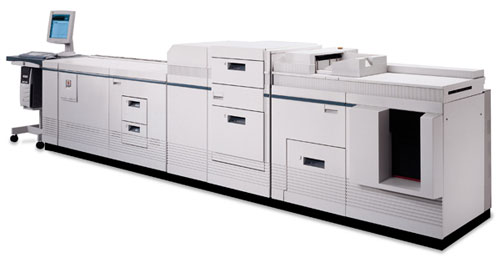 This machine excels in digital printing and photocopying in black allows for the following features:
The Docutec 6180's digital print speed is at 180 pages per minute (10,800 pages per hour);
Duplex printing on paper of a maximum size of 14 × 18.5;
Paper thickness capabilities of up to 10 pts, and offers
 Customize printing.
2 Xerox® Docutech™ 6135™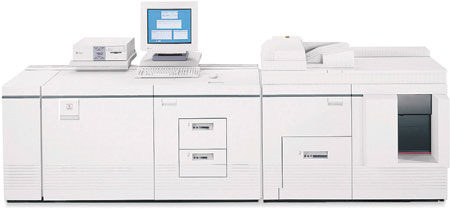 This machine excels in digital printing in black only and offers the following features:
The Docutech 6180's digital print speed is at 135 pages per minute
(8100 pages per hour);
Duplex printing on paper of a maximum of size 14 × 18.5;
Paper thickness of up to 10 pts, and offers
Customize printing.
Xerox® D136 Copier and Printer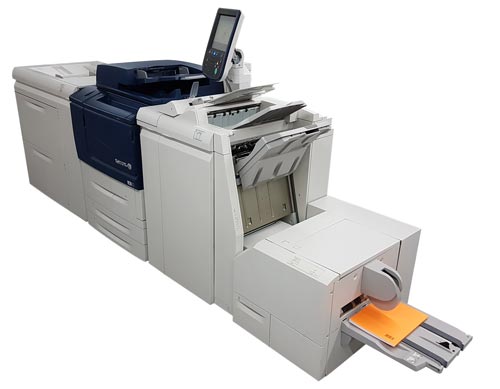 The Xerox® D136 copier with color scanner capabilities produces high-quality monochrome prints and it can effectively print up to 136 pages per minute.
This digital press is ideal for producing small books and manuals/guide books/booklets. Furthermore, with its "SquareFold Trimmer Module" finisher, the Xerox® D136 copier can efficiently create up to 100-page square-back booklets.